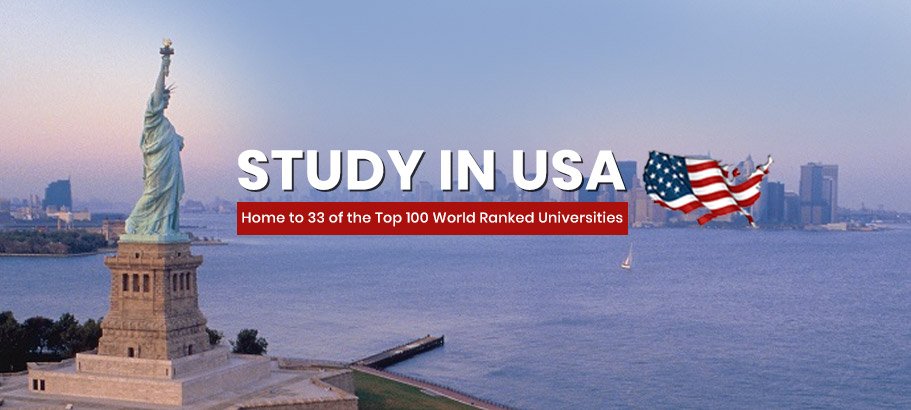 Study in USA
When students and parents consider higher education overseas, the United States of America is the first nation that springs to mind. It's no surprise that the United States continues to be a popular choice for many students.
The United States boasts approximately 4000 universities, many of which are among the best in the world. According to a recent poll, the United States has 16 of the top 20 colleges. The Best Reasons to Study in the United States
Universities offer a high-quality education with a distinctive curriculum.

The degrees earned are internationally recognised.

The United States is a world leader in scientific and creative innovation.

Universities put money towards improving the teaching environment.
Fees for tuition and other expenses
Education in the United States might be costly, but it is well worth the investment.
The cost of tuition might range from $8000 to $50,000 per year. Other costs, such as transportation, meals, course materials, and personal expenses, might range from $8000 to $12,000.
Admissions Criteria
Most schools and universities need confirmation of English language competency, which may be obtained by completing a TOEFL or IELTS test.
GMAT and GRE examinations may be required of students seeking for Master's programmes. Applicants seeking bachelor's degrees may be required to take the SAT (Scholastic Aptitude Test).
Eligibility to study in the United States
Students who want to pursue a bachelor's degree must take the SAT examinations.

Most top colleges will aim for scores of 700 or higher in each component, while mid-tier universities would look for scores of 580 or higher.

Students who want to pursue a master's degree in a field other than management must take the GRE.

Students wishing to pursue an MBA in the United States must submit their GMAT exam results.

The optimal GRE or GMAT score varies from one university to the next. Our experts can advise you on the ideal grades to strive for based on the university you want to attend.
Scholarships to study in the United States
Students studying in America are extremely fortunate, as they not only have access to some of the top courses in the world, but they also have access to a variety of scholarships to pursue their chosen field of study. The following are some of the most well-known and renowned scholarships available to Indian students seeking higher education in the United States of America:
All universities in the United States are eligible for the Fulbright Scholarship. A need-based and merit-based scholarship that covers the whole cost of tuition, room & board, and travel.
The QS link Masters Scholarship is a need-based award that covers up to $2,000 in tuition costs.
In US, you may work while you study.
Working part-time while studying in the United States is possible under specific circumstances.
For the first academic year of your study, you can work on campus.

While your course is in session, you can work up to 20 hours per week.

Students pursuing STEM (Science, Technology, Engineering, and Math) degrees can participate in the OPT (Optional Practical Training) programme.
a.The OPT programme enables you to work after finishing 9 months of course study.
 b.You must work in an area connected to your course.
c.The OPT programme allows you to work for a period of 12 months after completing your course without having to apply for a work visa.
Students can participate in the CPT (curricular practical training) programme, which allows them to work as an intern or via co-op education in an area linked to their major.